Welcome To Our Website!
To get help on your next project or to place an order, enter our Customer Service area. Visit our Products & Services area for a list of some of our products and services. For answers to common printing questions, visit our Resources & Support area. To learn more about us, browse our Company Information section. We hope you enjoy your visit to our site. If there is anything we can do to further improve your experience, please let us know. We are always looking for ways to better serve our customers.
WE DO MORE THAN JUST BUSINESS CARDS AND FLYERS!
Yes, we are printers; but we do more than just business cards and flyers! We provide design, print, signage and marketing solutions to our clients; helping them connect in their communities.
When it comes to business communications services, we can do it all. Essentially, we are a one stop shop. With a complete range of products and services at your disposal, we can help you get your message out to customers, employees and vendors. We use the latest printing and document management technology, so we handle your projects from start to finish.
We have the marketing knowledge to help you drive your business to even higher levels of success. Starting with the creative text and eye-catching graphics, we create, produce and distribute your finished printed products.
Minuteman Press Liverpool is more than your printer, we are your marketing and printing partner. We build our success by helping you build yours.
Let us help you build your business. Let us show you how!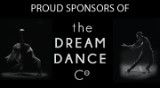 News Centre
---
Liverpool Council Australia Day Small Business Award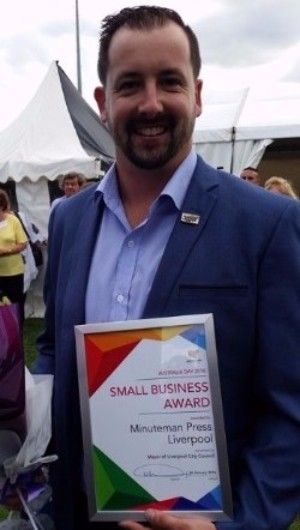 In exciting news, we are proud to announce that, thanks to the driving force of our business partner, Adam Anderson, we were the proud recipients of this year's Liverpool Council Australia Day Small Business Award.  Adam has contributed to local fundraising and was elected to the Board of the Liverpool Chamber of Commerce and Industry in 2015.
Adam's enthusiasm and generosity of spirit represent the type of entrepreneurs who have made Liverpool the capital of Sydney's South West, and embody the vision of Minuteman Press Liverpool. With your continued support, we intend to continue this community involvement throughout the year.
Special thanks to Liverpool Council for their recognition and for supporting small businesses in the area.
We hope to see you in store soon, or we're happy to come to you. Let us know how we can help you!  
Phillip & the team at Minuteman Press Liverpool 
'If you always do what you've always done, you'll always get what you always got'.
James P. Lewis in his book Working Together: 12 Principles for Achieving Excellence in Managing Projects, Teams, and Organizations says 'If you always do what you've always done, you'll always get what you always got'. So, isn't it time to redefine your image by asking what is it that I do, who are my customers, where am I headed and importantly, how will I organise and communicate those messages to achieve my mission?